We've seen a lot of bad news over social media lately, and it seems to come in droves when it does-one of our friends we went camping with this summer had to have surgery for a brain tumor, another friend's Blue Heeler girl who we've dog sat and went on lots of walks with when we lived in Flagstaff recently died from a mast cell tumor (also why Bella's brother Bosco had to be put down), and one of our previous foster pup's adopters lost her husband suddenly. Our thoughts and prayers are with all of them and we're so happy our friend is in recovery and therapy after her surgery.
Lately we've had a lot of storms, and it's been pretty quiet around here with mainly just mom working and learning and us not being able to go on too many walks because of the lightning-yawn! Though we've been working on some trick training and body awareness workouts that we hope will translate to more advanced tricks and help us with our dog sports. We are super excited for the fall though because that will mean not only cooler temperatures, but lots more events! In Arizona the summer months don't have very many dog events because it's way too hot all around for an outdoor event-especially in the middle of the day. We just signed Kronos up for a dog training class, and there's lots of fun and many changes to come over the next few months.
We did manage to get a couple of hikes in over the past few weeks though. Bella, Terra, and I went hiking with a local meet up group. There were quite a few people and just a couple of other dogs. We'd hiked in that area before, but had no idea there was such a great trail there. The hike was over two hours long although we went at a decent pace.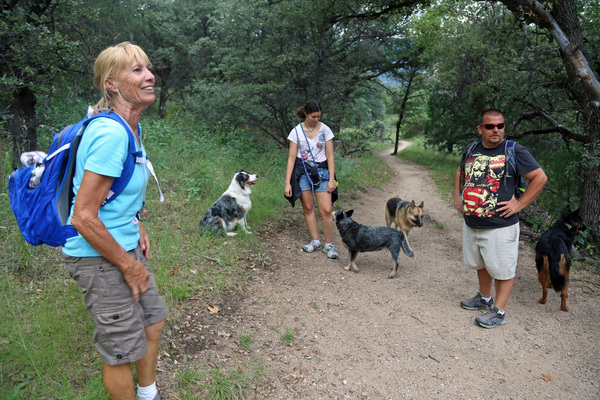 We packed a lunch and went back again by ourselves-this time we brought Kronos too and took the trail at a relaxed pace.