A couple of weeks ago we visited Flagstaff, because we were asked to dog sit up there. We jumped at the opportunity to get out of the heat, catch up with some friends, and get some real world training experience in!
We also were dog sitting a couple of our furiends from Tucson who we've dog sat before-Titan and Io. So they got to join us up in Flagstaff and get out of the heat for awhile. There were five dogs in Flag that we were dog sitting, but with Titan, Io, our summer guest Inca, foster Lacey, the permanent crew Bella, Terra, & Kronos, there ended up being twelve dogs in the house! The other dogs were Tonka (the huge lethal white-blind and deaf), Lexie and Sam (the two little white dogs), Henson (a little old Brussels Griffon-you won't see him in the pics because he was mainly off sleeping or doing his own thing), and Mary Kate (another foster dog who is available for adoption through Arizona Cattle Dog Rescue).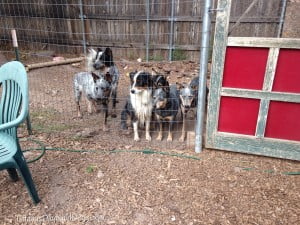 Since we were in town for about a week, we took the opportunity to hit up many of Bella and my old haunts. Inca's mom was in town for a short time so we met up with her downtown so they could see each other. Terra got to come along for that ride. Then we walked around for a bit, did a few tricks and some obedience practice, and then headed to the dog park.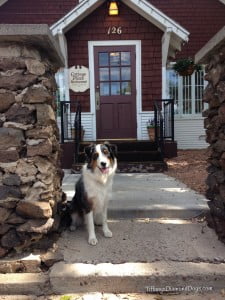 At the dog park we played some hide and seek (I hide behind trees to teach the dogs to check-in and keep an eye on me), worked on a few recalls (calling to me then releasing to go play and explore again so coming doesn't just mean it's time to go home) and played on the Agility equipment.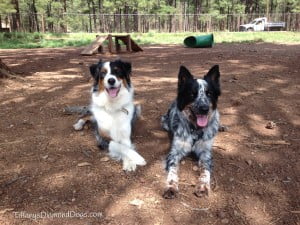 Around the house we did a few games as well-we played search games (I'd hide their breakfast kibble and they'd have to use their nose to find it) and a texture game with Kronos around the backyard (Bella and Terra have more exposure already with this). Kronos was asked to get in odd objects, jump on things, and walk on a variety of surfaces from wood to concrete to the roof of a dog house (not sure what this is made of, but it's definitely a different texture).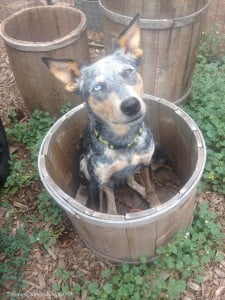 Stay tuned for Part 2 from our Adventures in Flagstaff next Tuesday! Continued in Part II
Join us in the Training Tips Tuesday BlogHop hosted by DOGthusiast and Tiffanys Diamond Dogs! Link up with your own Training Tips, Training Stories, Relationship Training, Training Experiences, or anything Training related!
Here's how to join:
Grab the badge: Download (right-click to save) or Link to it using the following code, your choice!

<

a

href

=

"http://dogthusiast.com/about/training-tips-tuesday-blog-hop/"

target

=

"_blank"

>

<

img

src

=

"http://dogthusiast.com/wp-content/uploads/2014/06/training-tips-tuesday-200.jpg"

alt

=

"Training Tip Tuesday blog hop about dog training and behavior"

width

=

"200"

height

=

"200"

/

>

<

/

a

>

Link to your hosts, DOGthusiast and Tiffany's Diamond Dogs. For ease of use, copy this code (there's a copy button in the top right corner of the code box!):

This

post

is

part

of

the

Training

Tips

Tuesday

blog

hop

,

hosted

by

<

a

href

=

"http://dogthusiast.com"

>

DOGthusiast

<

/

a

>

and

<

a

href

=

"http://tiffanysdiamonddogs.com/"

>

Tiffany

'

s

Diamond

Dogs

<

/

a

>

.

Add your link to the hop! Click "Get the Code" below, add your information and link to your post, and you're in the hop!
Then enjoy exploring and reading the other Blogs in the Hop!
Live Life to the Fullest,