Last week a few of our furiends were traveling through AZ and doing a show at a local elementary school. Kronos and I were asked to come out and perform a few of his tricks for the shows.
We forgot to bring a crate so Kronos chilled on lead when it wasn't his turn. He was still a little tired from our big day the weekend before, but he was happy and willing to play. He laid down and waited while the other dogs played Frisbee or did an educational demo. Then we were on! The performance was on grass so we did some dog dancing tricks/freestyle. Kronos did some leg weaves (front and backwards), reverses, played dead, walked on his hind legs, jumped through legs, rebounds, roll overs, front paws on feet and walking together, and a bow. I was so proud of how he did! Then between shows we brushed up a bit on a few of the tricks (I realized later my cues were a little off as I was nervous-which is why he had messed up on a few of them) and played with some retrieving and holding an object (his leash this time). In between the shows, he kept trying to steal my treats or grab his leash and offering it to me-he had to be reminded to settle and relax a bit! The treats were a combination of majorly his regular dog food and a few other treats. We did the same tricks (though not in the same order) for the second show and added in a wave and jumping over my arms.
It was great to see Nadja and all the pups she had with her, including one of our previous fosters (then known as Olive, now Ba-Ba-Lu).
Olive was so happy to see us! Featured above is the adoption video we had put together for her for potential adopters. I think she remembered Kronos as they were fostered together and she played with Kronos when he was a pup-he seemed to remember her too though he's still a little forward and rude with his on leash greetings and is working on that. Out of the fosters we've had over the years, Olive was definitely one of our favorites. Pip and Annie were a few other favorite fosters-they too had such personalities. It's hard to believe that she was slated to be put to sleep for "human aggression." Sherry pulled her from the shelter and Randi suggested Bella and I may be interested in a 'project,' which is when we met Olive. I picked up a rope toy to see if she had any toy interest and she grabbed the rope and wouldn't give it up for her life. I put the toy under my foot and put my whole body weight on it to make it uninteresting and after a long time of waiting she finally dropped it. We worked a lot to teach Olive an exchange and drop and she quickly picked it up to the point she was soon throwing the toy into hands to be thrown again. Bella even played with her (Bella doesn't really play with many dogs and she has such a weird playing style that not many dogs understand, especially as she's gotten a little stiffer in her bones). Olive had such amazing raw talent and high energy it was easy to see she wasn't suited to being simply a family pet who may or may not get some exercise and interaction on occasion (and with all the family things we had going on at the time as well as finishing up school, I wasn't sure if we'd be able to provide it for her either).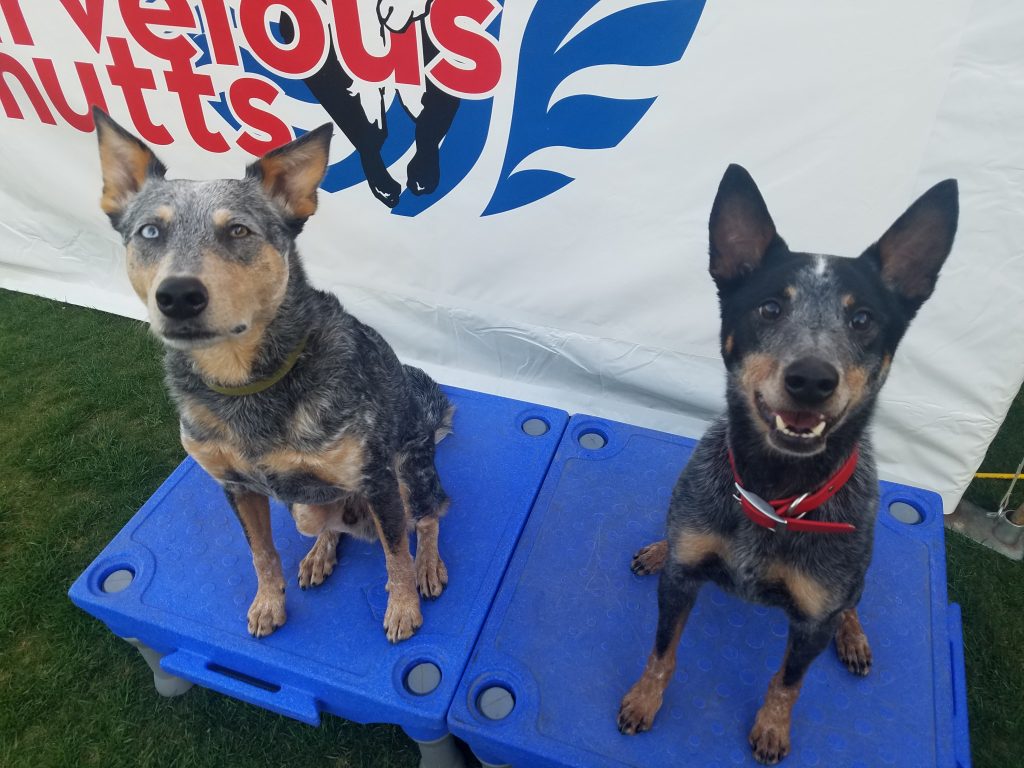 After the shows, Kronos helped a little bit cleaning up the arena. It wasn't until he was back in the car and we were leaving that Kronos finally crashed. He slept on the drive home then got a bully braid with his sisters. Before I had to go out for the night he was back up and rearing to go! (Heelers are bred to go all day in the outback and can have a LOT of energy, though I joke that Kronos is a Malinois or Border Collie in a Heeler jumpsuit!) We went for a quick walk in the desert and he sniffed some, dug, and raced around to his heart's content. A tired pup is a very good pup! We had so much fun showing the kids how amazing dogs are. I still remember seeing the Purina Incredible Disc Dogs playing at a festival and was amazed by that-never would I have dreamed we'd get a chance to perform in something like that which may inspire others as well.