We have finally found a nice walk in our new neighborhood! We moved from our other house to the house we live in now back in March. So it's only taken five months, but we've finally done it! We had tried a variation of other routes, but there were a number of things wrong with those routes-including walking through thorns and brush or the walks weren't long enough or we didn't see any dogs or people. While we made it a point to get out of the house for walks down by the river or up the mountain, still we continued to search for a regular daily route. We tried a new route and were so impressed with it! While we have to walk by a busy road for some of it, there aren't endless prickly plants, there are a few yards with barking dogs (which is great socialization), and the walk is about the same length of time as our old walk (roughly half an hour unless we walk briskly).
The barking dogs are a huge plus. This is something Bella grew up encountering on her daily walks her whole life and she soon learned to ignore the dogs and instead enjoy her outing. Kronos and Terra are still learning this. Terra gets excited and she wants to go greet the dogs. Kronos gets riled up and before he would even bark back. After quite a few walks around our old neighborhood, they had both gotten better and are getting used to it.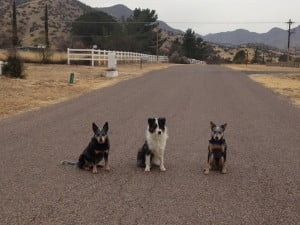 In our old neighborhood, we'd also gotten charged by a big black lab mix. This was back before Terra and Kronos. And this
happened multiple times. The people would leave their gate open and the dog would come out. This dog wasn't looking to attack though-he seemed to want to say hi. When I intercepted him and got ahold of his collar before he got to the dogs, he simply wagged his tail and let me lead him back to his house. From these experiences Bella learned not to become too worried or fazed and let me handle a situation.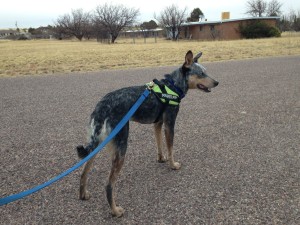 Well, on our second night trying out the new walking route, the neighbor's dogs came out to the fence to bark at us. It didn't bother me a bit-we just concentrated on continuing our walk. But two of the Pomeranians managed to skirt under the fencing and they came toward us barking. Bella just stood there and stared at them. Terra looked a little confused too though she did strain forward a bit. And Kronos ran forward to see what they were doing. I got the dogs behind me to block the Poms from getting closer. When it seemed they had backed off, we went to return to our walk, but then they charged forward again so I again went between the dogs and my own. I pressed forward more and told the dogs to go home. By then their humans had come out and were yelling to their dogs to come back in. So we turned and went on our way-making sure the walk wasn't very interrupted and the dogs wouldn't be fazed by the encounter. I also had to be somewhere at a certain time and was running a bit late, so I didn't have time to stop or talk with the people.
Have you ever had any experiences of being charged or attacked when out on a walk? How did you handle it or how do you think you would?
Next week we'll be sharing a few top tips on ways to either avoid or manage the situation.