You are what you eat.
This same ideology holds true when it comes to our animal friends; health starts with what you eat and what goes into yours and your pet's bodies.
In your search for quality and healthy treats to share with your canine companion we wanted to share some healthy dog treats which are made with quality ingredients, are Made in the USA, and which have been Diamond Dog approved by Bella, Terra, and Kronos's taste buds.
We specifically wanted to know a little more about a couple of the companies that create wonderful dog treats. Kelly Ison is the owner of The SMARTCOOKEE Company with her husband, Robert Ison. We had the privilege to chat briefly and meet Kelly, Robert, and their adorable Westie Abby when we went to Wigglebutts Go Hollywoof last year.
The SMARTCOOKEE Company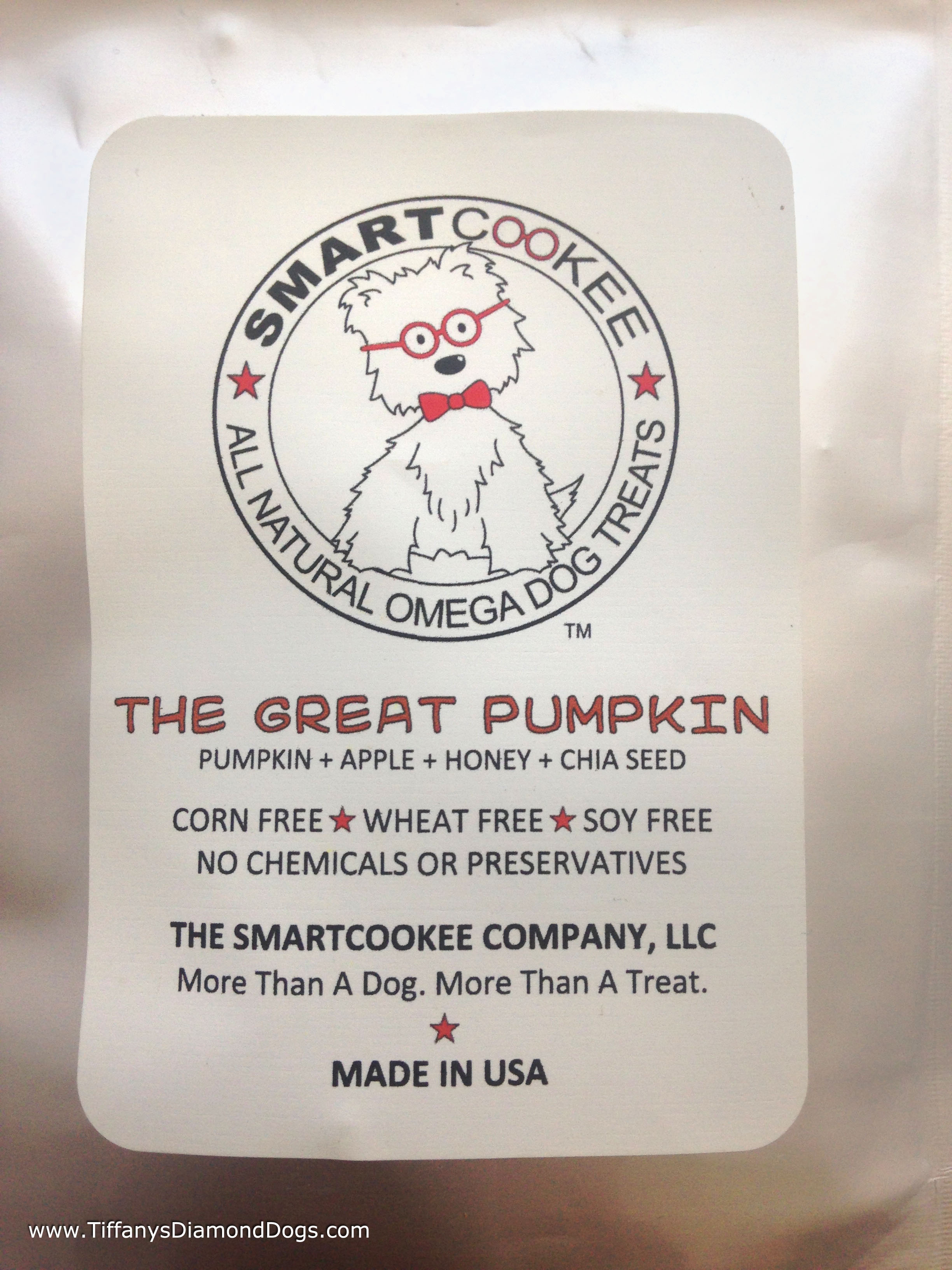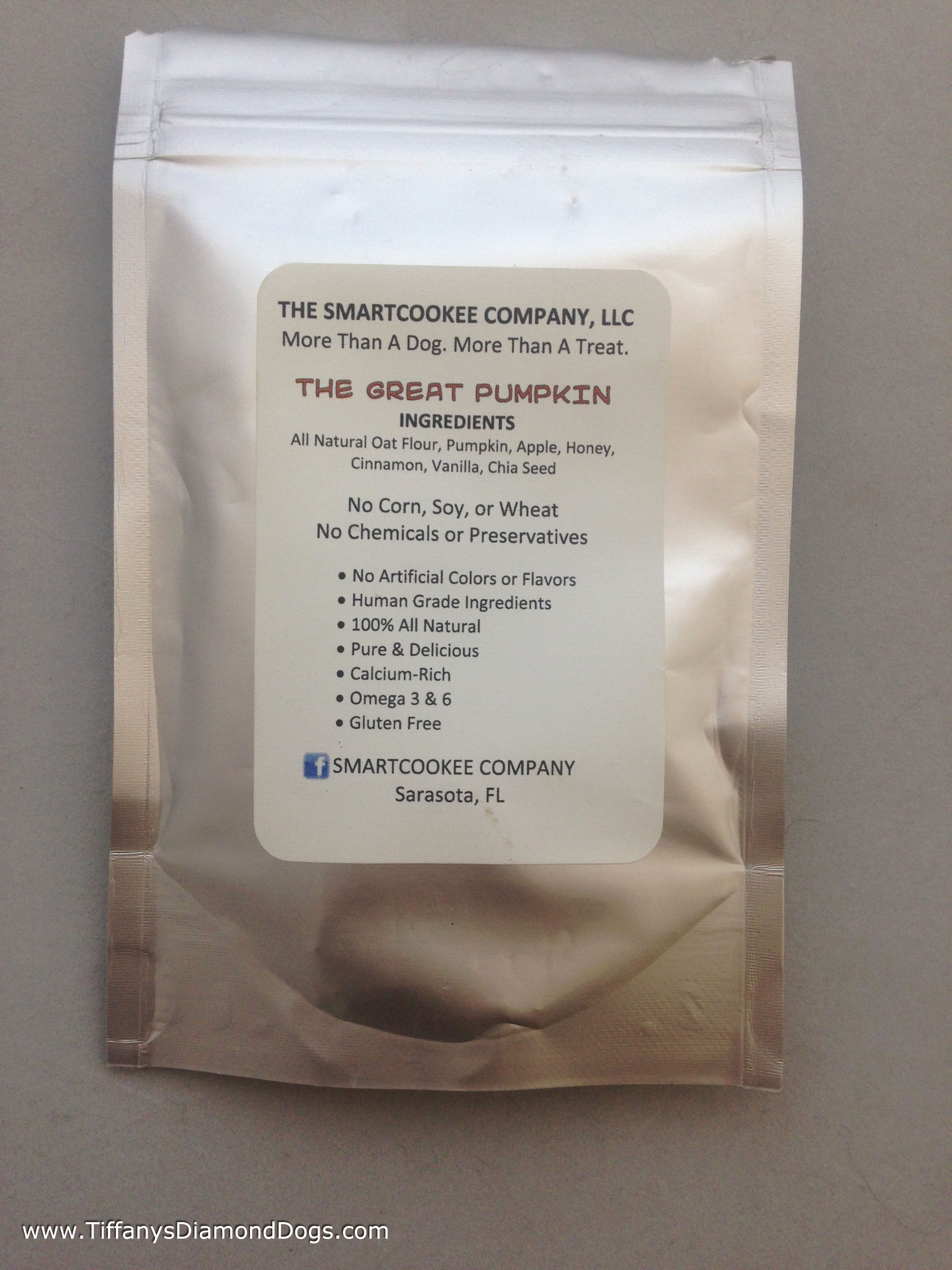 Here's what Kelly Ison had to say:
Q: Why did you start SMARTCOOKEE?
A: [In e]arly 2012, The SMARTCOOKEE Company based in Sarasota Florida was founded when I, along with my husband, adopted our (cute) dog Abbey (West Highland Terrier); she's also the SMARTCOOKEE Mascot and Chief Cookee Tester. After seeing so many news reports and dog treat recalls, the idea was born. She was family and we wanted her to live a long and happy life through good nutrition. So, I combined a personal commitment to a healthy diet and a love for Abbey as a family member.
The result was SMARTCOOKEE.
Q: What is the story behind SmartCOOKEE?
A: MORE THAN A DOG. As pet owners, we feel that dogs are vital parts of the family and The SMARTCOOKEE Company has since evolved from this basic idea. All SMARTCOOKEE products are created with love and passion for your dogs overall well-being. We will always strive to create fun and interesting products that value your four legged family member's health, inside and out.
We have found that pet-owners agree! #TreatwithLove
Original recipes are 100 % Sourced and Made in the USA. Smart, Natural, and Fresh Human Grade Regional Ingredients. We developed flavors that define a time like PB'N Jelly Time. Using an all natural kitchen, we create pure, Natural, Organic Dog Treats that are baked in small batches and to perfection. In addition to being delicious, they are rich in Omega[s] for healthy bones, coat, and teeth. We incorporated the "super food" Chia Seed into our original, healthy recipes. Chia is a great source of calcium, protein, iron and antioxidants.
Q: Why is it important to feed pets healthy foods with minimal ingredients?
A: Pet treats can be scary precisely because you think you're feeding just a tiny amount – 'nothing to be worried about.' If you're not careful, the wrong treats can add a substantial amount of calories to your dog's otherwise normal, healthy diet. Pet treats are just that….a treat.
Some pets need to eat a limited ingredient food/treat because they have food allergies or food intolerances. In these cases, foods with fewer, carefully selected ingredients can be less likely to trigger a reaction.  Thus, the right kind of treat, which is limited in ingredient, can have tremendous health benefits and support a multitude of health problems naturally.
That's why we've created our product line of single-source protein with low-glycemic ingredients, like peas, as opposed to white potatoes. They are original, yummy, healthy, artisan dog treats infused with Chia.  And, only 2 calories per treat! 
Q: The All Important Question on many Pet Parent's Minds: where are SMARTCOOKEE Treats made?
A: Sarasota[,] Florida
Tell us anything else you'd like readers to know:
I'm a knowledgeable pet advocate who shares her passion on pet nutrition. I'm neither a scientist nor a DVM. What I am is, pet owner and researcher whose passion is to help change the way we think as a pet owner. I'm also an Executive Coach and Mentor with more than 15 years of experience helping professionals achieve insightful knowledge about themselves and their businesses.
One Dog Organic Bakery
Veronica Glynn is the owner of One Dog Organic Bakery. We won one of the gift baskets from a raffle that is held monthly at OneDogOrganicBakery.com-make sure you check it out and enter! Veronica also included some Apple and Kale dog treats for us to sample with the raffle prize
, and we sent some photo greeting cards from Wind Wolf Photography to be included in future raffle baskets.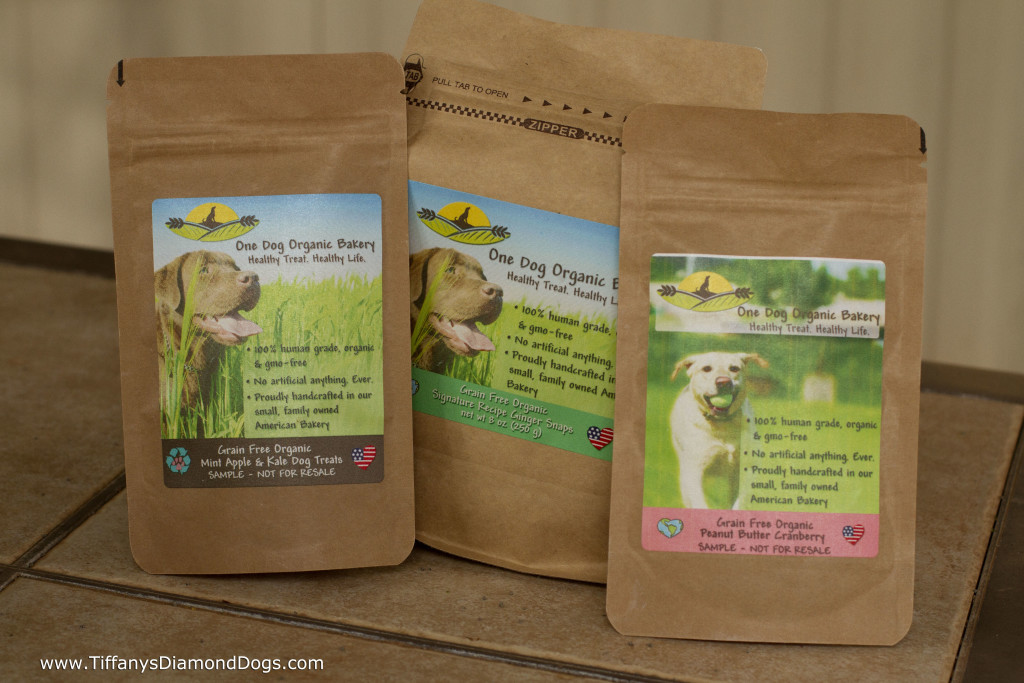 Here's what Veronica Glynn had to say:
Q: Why did you start One Dog Organic Bakery?
A: I love to bake. Baking has been a stress reliever for as long as I can remember. Prior to starting our Bakery, I would bake dozens upon dozens of cookies, cupcakes, pies and whatever else suited my fancy on my days off work. After losing our cat to a pet food recall and then continuing to watch others lose their pet, I began baking treats for our four legged family members. I can no longer trust a faceless corporation to put my pet's safety first or before their bottom line which is why I have taken matters into my own hands. Being able to present fellow pet parents with a treat that is homemade with 100% human grade, certified organic and GMO­free ingredients and then watching the pup get super excited is the best feeling in the world. When you purchase our treats, your fur family becomes part of our family and we put their health and wellness first​, every single time.
Q: What is the story behind One Dog Organic Bakery?
A: It has been my dream to own my own bakery for over 5 years. After losing our Kitty to the melamine pet food poisoning, I knew I wanted to make a difference, but the time was just never right. Not enough time, not enough money saved up, we have to go on vacation, right?
Well, life sort of threw me a curve ball in July 2014. I received a life altering medical diagnosis that stripped away all of the pretentious crap that was preventing me from chasing my dream and I realized that it was now or never. I knew that I either had to follow my heart, my dream, my passion and find happiness, taking a huge financial gamble or continue living somewhat miserably but financially secure. In August, 2014, I stepped outside of my comfort zone, threw caution to the wind and placed my faith in my love & passion for our animal's safety and wellness and started One Dog Organic Bakery.
In February, 2015, I took an even bigger leap of faith and left that cushy desk job and truly became my own boss. Regrets? Absolutely not.
Scary? Oh yeah! Terrified but I am so amazingly happy. I've never smiled so much in my life. It has almost been one year since we opened our doors and we have already grown so much. I know that I am on the right path and that my place is to help my fellow pet lovers find safe food for the ones they love the most. Who needs vacations anyway, right?
Q: Why is it important to feed pets healthy foods with minimal ingredients?
A: The more ingredients you introduce into a recipe, the more risk of a food allergy or even worse, a possible food recall. Whenever possible, I recommend feeding "human grade" ingredients vs "feed grade." What is the difference? Human grade ingredients are those fit for human consumption whereas feed grade are those that fall way short of safe foods for humans (and in my opinion, our animals). They contain animal meats that were obtained from slaughtered, diseased animals, contents that were scraped off a factory floor and shoved in a bucket or worse. I always tell our customers to closely look at the pet food labels. Just because there is a pretty picture on the front of the package does NOT mean that is what is inside.
Q: Where are One Dog Organic Bakery Treats made?
A: Our treats are currently handcrafted right in our home kitchen. We are in the process of finding a commercial kitchen because we cannot keep up with the demand.
Tell us anything else you'd like readers to know:
For every bag of our treats sold, we donate our treats to a dog in need. We started a Give Back program in February 2015 called K9 Rescue Outreach. Each month features a new rescue or shelter that we spotlight on our blog, our website and our social media. They also receive our donated goodies to share with their rescued pups! So far, with the pawsome love and generosity of our fellow pet parents, we have donated over 300 pounds of food!!
We are on a mission to bring safe and nutritious food to all rescues across this great country. So many of our rescues have never known the love and care of a human nor have they ever received a treat or reward. Food is something that must be gobbled up before it is taken away or another animal eats it. We believe all dogs should experience the love and joy of receiving something so simple as a treat, a belly rub[,] and an ear scratch. Visit our website at https://www.onedogorganic.com/outreach/ to discover our K9 Rescue Partner of the Month and to learn more.
Love and Quality
Both dog treat brands reflect the love that the owners have for their dog's health and well being and quality made in every treat and bag.
All of the ingredients are safe for people and canines-I even taste tested a couple and will admit that they do indeed taste delicious.
We shared some of the One Dog Organic Bakery treats with one of our furiends who has many food sensitivities and allergies-his mom is always looking for treats he can have and she was ecstatic about these treats and ingredients as well! We hope you enjoyed getting to know more about The SMARTCOOKEE Company and One Dog Organic Bakery and their founders.
A Few Other Dog Treats
We've also become aware of a variety of treats thanks to BarkBox , which is a monthly subscription service of a variety of treats and toys for your pet. If you're interested in getting some monthly goodies for your pet to try, you can use the code DIAMONDDOGS when checking out to receive 10% off your new subscription order and to receive free shipping in the USA.
What is also wonderful to see is that many of the leading pet food and treat companies are beginning to listen to pet owners and are creating healthier products for our animal companions.
Here are some other dog treats* you can check out and let your furiend try (all are made in the USA):
Primal Freeze Dried Beef Liver Munchies
Etta says! Chicken Pot Pie Little Bitz
Alaska's Wild Alaskan Salmon Jerky Treats
Evanger's Nothing but Natural Chicken Jerky Treats
*Please note that some of these treats listed have limited and simple ingredients and others have a bit more or may be slightly more processed. However, since I allow myself a treat of ice cream sometimes daily and these are treats which are given during training, photo shoots, and outings, I had no problem giving these to Bella, Terra, and Kronos and they definitely enjoyed them all.
Disclaimer: Links in this article may be affiliate links. No company mentioned in this article is responsible for the content of the article, and Tiffany's Diamond Dogs was not compensated for writing this article. We only share information that is relevant to our readers.