October is Adopt A Shelter Dog Month. Technically, Kronos wasn't officially adopted until January in 2013, and he came home in December 2012. However, we guesstimated his birth date based on when the pups were in the shelter and based on them being a few weeks old as sometime in October.
In honor of Adopt A Shelter Dog Month and Kronos's birthday, we wanted to share Kronos's adoption story.
She-Ma and her pups were found on the side of the road and taken into Pinal Animal Shelter in Tucson, AZ. Arizona Cattle Dog Rescue pulled the mother and pups into a foster home.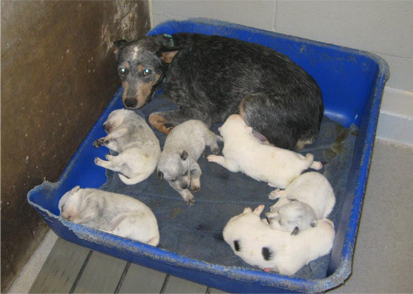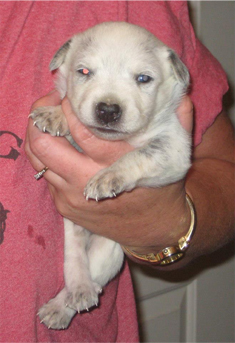 I was looking to add a Blue Boy to my family, and when I saw this litter, I was hoping it would be one of them. I immediately asked if I could foster a pup so I could see if he would mesh with the girls and the family. After looking through all of the pup's photos on Facebook, I asked to foster Setimika, but I distinctly remember seeing the photo above and thinking I really liked this puppy. You cannot tell in this photo that he has two different colored eyes. Little did I know that little Pimne would be the one coming home with me to stay.
When I went to photograph the pups, I was asked if I could temporarily foster another one of the pups and take him to his foster home in Flagstaff when I returned to school. I agreed, and was given "Ciqlal"* to foster with his brother Setimika.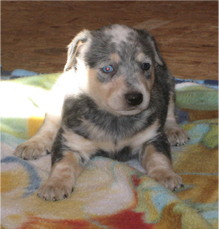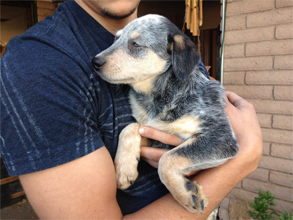 Kronos seemed to set out from the beginning about proving he was the one who was meant to stay. His brother wouldn't really interact with me (though he loved other dogs and enjoyed following them around and trying to interact with them) and seemed to have no play drive. He preferred to go do his own thing and watch from afar while Kronos interacted. Kronos would chase a ball and bring it back, play with toys, run after me on a bike, follow me off lead at the park, and come racing when I called. He was never far from my sight and more often than not was right in my shadow. Kronos would cry if I left him and jump out of his puppy pen or the puppy gate to come find me. He would also want to always be touching me in some way and even tried to push his way in between Rocky and me when I was cuddling with him. Somehow, Kronos had decided I was his human and he was meant to be in this family. I wasn't fully convinced about this floppy-eared, two-eye-toned pup until one day I was pretty upset about a situation and Kronos put his paws on my chest and his head on my head as if he was reassuring me that everything was ok. Then he cuddled up in my lap and went to sleep. In this way, Kronos wriggled his way into my heart and into my family.
Many people find his name very unique and want to know the meaning behind his name. My brother actually picked the name. The Native American names were too hard to say, so we decided to pick different temporary names (because the adoptive families always change the name anyways). I gave Dan free reign to pick this pup's name and set about finding Setimika's perfect name (at this point I was still set on seeing if he was the pup for me). Our siblings gave us tons of name ideas and Dan picked the name "Kronos," noting that this pup looked like the God of Time and very wizened for his young age with his two different colored eyes and the frosty white speckling on his head. He still looks like such a wise old soul and incredibly human at times.
Kronos's name stuck, though I spelt it Kronos instead of Chronos.  Kronos's brother's perfect name, had he stayed, would have been Rebel, though he was adopted by another family and renamed Rocky. We stayed in contact with almost all of the puppy's foster parents and even had a litter reunion when the pups were a year old.
Here are a few puppy goodness videos of Kronos for you to enjoy:
(We are working on a new trick video for Kronos now full grown)
*However, I did not realize until months later that the puppy I had been given was not who he was said to be. Ciqlal and Pimne are pretty similar looking and were easily mixed up at their age. However, Ciqlal had two blue eyes in his baby pic, and Pimne had two different colored eyes. The tell-tale sign that defined Kronos in his puppy pictures were what I call his "Double Wings" on his chest.