When searching for dog food, have you ever taken a moment to inspect the ingredient panel? It's incredible to inspect an ingredient panel and realize you really have no idea what is in a food and that what you're eating may be completely artificial.
The classic cliché, "You are what you eat," holds a hefty weight of truth. With the increase of processed ingredients in human food, the dilemma of unreal and unhealthy food seems to also expand to our animal companions.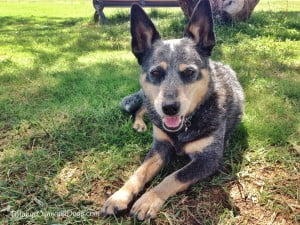 Growing up, my mom bought the dog food and the groceries. I didn't expend much effort in thinking about what I was eating-let alone what my furry best friend, Bella, was eating. But when I began doing the shopping and buying the dog food on my own, I started to become a little more conscientious about the fuel we were all putting in our bodies. If we put in junk food, then a whole host of other problems can result, including (but not limited to) obesity and diabetes. But healthful food will cut down the risk of developing many of these problems.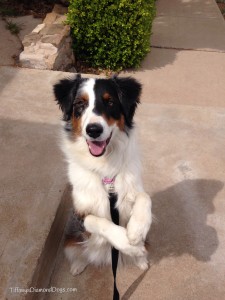 One of the things we've learned is that the "meal" on an ingredient panel does not mean that that protein itself is actually present in the food. If the protein is really in the food, it will be listed plainly and simply as chicken, duck, turkey, or another protein. Many foods also use mainly fillers like potatoes or corn instead of real meat-the protein may be a ways down on the ingredient panel or it might not even be included at all. And then there are those ingredients on the panel which are near impossible to pronounce or decipher.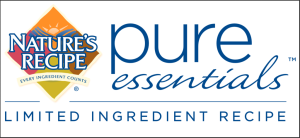 A dog food which we were recently introduced to is Nature's Recipe Pure Essentials. Pure Essentials is a Limited Ingredient Recipe. There are a variety of formulas suited to the different life stages and size of a dog. The core principle behind the new line is to start with a few pure core ingredients. That's it. The ingredients are then left alone. Pure Essentials is about a "hands off" approach for the food with no artificial preservatives, corn, beef, or animal by-product meals.
Something unique about Pure Essentials is that you are actually be able to see the food when you are examining the bag. You will also see chunks of real pieces of dehydrated fruit and vegetables too!
In fact, the ingredients sound good enough and basic enough for even a person to eat! Please try to refrain from munching on your pup's food, although, have you heard of the woman who is eating dog food for a month to raise awareness about pet food quality?
Our animals rely on us to care for them. Feeding the most basic, nutritious, and true food (short of raw for us!) is important to me. As you can see, Kronos isn't too picky about his food choice or where it comes from.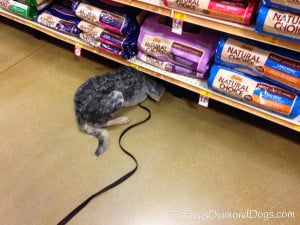 Find out more and connect with Nature's Recipe:
Facebook: http://blogp.ws/NaturesRecipeFB
Website: http://blogp.ws/PureEssentials
Instagram: http://blogp.ws/NaturesRecipeIG
Twitter: http://blogp.ws/NaturesRecipeTwitter
Pinterest: http://blogp.ws/NaturesRecpePinterest
Would you like the opportunity to win a $400 Gift Card to PetSmart?
Tripawds is hosting a Pure Essentials Giveaway for a $400 PetSmart giftcard! Head on over and enter!
This post is sponsored by Pure Essentials and the Pet Blogger Network. I am being compensated for helping spread the word about the NEW Pure Essentials Food, but Tiffany's Diamond Dogs only shares information we feel is relevant to our readers. Nature's Recipe and Pure Essentials is not responsible for the content of this article.