We got a chance to meet up with one of the Instagrammers who we follow in Virginia. K9Chronicles features four adorable canines-Cheeto the orange and tan Shiba Inu, Onyx the black and tan Shiba Inu, Ivory the white Shiba/Husky Mix, and Pepper the Elkhound. Miss Pepper recently had some surgery, so though while she didn't get to run around with everyone, she did get to come along and briefly say hi. Onyx is incredibly tiny! His mom says he's 20 lbs, and his size is very petite but he is so much personality in that small size. All of the dogs made Bella and especially Terra look huge! (though Terra is only around 45-50 lbs.). We did manage to get a few photos of all the dogs together.
We met at a dog park and all the dogs sniffed and said their doggie hellos. Bella then found a tennis ball and wanted to play fetch-she takes it to anyone who would throw it for her. She's very good about sharing her ball and is respectful if some other dog beats her to the ball. She will wait patiently until the ball is dropped and then go to retrieve it. However, she doesn't like it when another dog tries to snatch it right from her mouth and she will tell the other dog off. This happened once at the dog park in Flagstaff and the other dog attacked her after it tried to take the ball out of her mouth and she told it off. Inevitably there is a dog who will do that at dog parks, which is one of the reasons we don't frequent dog parks a lot (there are a host of others, but we won't go into that here). Besides that, Bella finds interacting with a person, meeting and greeting dogs at events, or going for a hike with a bunch of dogs much more interesting than running around in a fenced yard with a hodgepodge of strange dogs.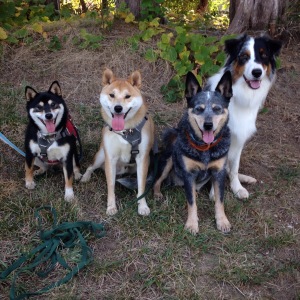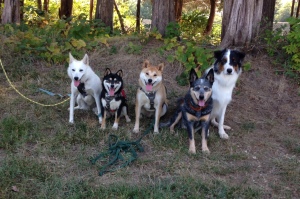 Terra likes to play rough too. We're not sure if it's an Aussie thing in that she has a very physical play style, but most dogs don't seem to appreciate it or understand it. While she may be having fun, the way she plays doesn't look very fun for her playmate. She tackles Kronos and flips him to the ground by grabbing his neck fur and pulling him down and will grab his hind legs and pull them out from under him. Sometimes she'll try this with other dogs too, though she is respectful of Bella because Bella sets the boundaries and rules when playing.  Terra got a little too intense in her playing with one of the other dogs who was bigger than her a couple of times so she had to have a few timeouts.
We had fun getting to meet up with these pups though and look forward to more meet ups with our online friends! Do you have friends who you know only from online who you met with in person? Let us know in the comments! 
The winners from our Blogoversary Giveaway are: Bryn N., DZDogs, and Kate V. Winners will be contacted via email and will have 24 hours to respond or another winner will be randomly chosen. Thank you all for participating and stay tuned for more fun giveaways, events, and prizes!
 Live Life to the Fullest,