We're excited to announce that we are changing the Training Tips Tuesday to Adventure Dog Tuesday! This will be paired with YouDidWhatWithYourWeiner's monthly Twitter #AdventureDogChat! The change will start next week and allow for more diversified posts and more people to participate. Get out there and have some adventure with your dog-whether that's down to the local store, a major trip, out in nature, or even around your own block or backyard. Your dog will thank you for it and your relationship will be stronger for it too.

We started a Trick Training Class a couple of weeks ago (the second class session was cancelled because of a scary lightning storm-the boom made me jump and duck!), though we've only had two full class sessions. Bella is brushing up on some of her cues and we are working on distinct and clear communication together. We're also working on distraction (working on cues and being able to perform in close proximity with other dogs without being distracted. We're relearning some old behaviors and working on some new ones (i.e. we used to do opposite paw shakes like how humans shake hands, but now we're working on same paw same hand when we're facing each other-my left for her right and my right for her left). Long term we want to become part of a demo team (or be able to do demos with others) of some kind and do more performances, so we're working on ironing out kinks in cues and figuring out what works best.
We brought a yoga mat to do tricks on and there are some tables with safe matting on them which the dogs are encouraged to climb on, over, and under. The last class session we added a hoop!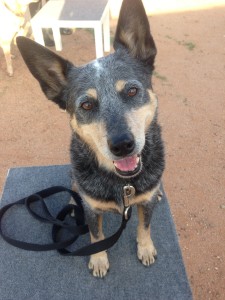 While it's kind of scary having people stare at you while you're doing tricks, it's also exhilarating being in sync with your partner and performing together. And when you are truly in sync, the rest of the world fades to the background.
Hands down, I'd say this is the most fun class we've taken thus far! Bella enjoys it (though she does seem to wish we'd be playing and learning at a faster pace! She will start to offer during class and she wants to keep up the pace. We are learning a few new tricks like waving and going through a hoop. While we don't use our clicker in class (we don't know if people would appreciate the sound of the clicker), we still practiced a little bit of shaping for the tricks. Bella was soon sitting in place and lifting her paw without any guidance or interference. And we shaped the hoop trick (she does do the trick if directed, but I wanted her to figure it out on her own).
After some tricks on our mats we go to the covered tables and do tricks on them. We even do some obedience practice of having the dogs sit on the tables around each other and wait there. Here are a couple of photos of that: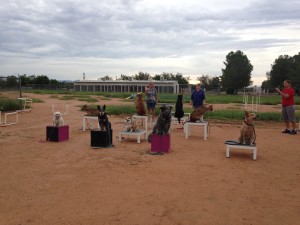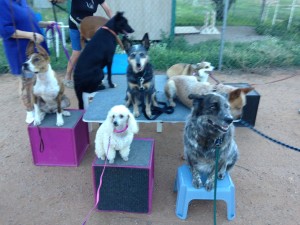 After class we bring what we learned home and play with Terra and Kronos before settling in for the night. They catch on very quickly and love it! Bella paves the path and that makes it much easier for the younger ones to follow easier. She is steadfast and a wonderful role model for the younger siblings to follow and emulate.
We hope you had a wonderful weekend with your family and friends and have a wonderful week ahead!
Live Life to the Fullest,