How does time manage to get away so fast?!
We had a wonderful time at the BlogPaws Conference in Nashville TN from the road trip leading up to the first night of the ice cream social to the end of the Nose-to-Nose Award ceremony.
Congratulations
to all of the Nose-to-Nose Award recipients-it was a great group of finalists and winners
! If you missed the winners
, check them out here.
The conference was a fast-paced three days of learning, networking, meeting animals and brands, and enjoying lots of things the conference had to offer
.
We started out the first morning working out with K9 Fit Club instructor Diane Silver of To Dog With Love. Terra is definitely in better shape than I am, because my legs were sore through the rest of the conference from the 2 minute
wall sit with a 50 lb Aussie included for 10-15 seconds of it. Thanks
Diane for a fun morning workout!
There were so many things to do, and it was hard to do them all! We still don't quite understand how anyone was able to complete their Passport to Prizes
card. Last year we didn't even know about it, and this year we were so close to completing ours and just two away when the winners
were already
being announced-darn. If you have any tips on getting that completed, please let us know in the comments! We'd love to get ours completed next year.
Terra was the solo PR puppy
this year. Last year Bella and Terra attended, but Bella had been limping more lately, so she stayed home to take it easy. All blood tests and her thyroid came back clear. The leg that's giving her trouble has been giving her trouble off and on for the past few years. She had a growth on the leg which was removed and the limping seemed to away, only to recently resurface. The x-rays showed a small area of potential arthritis
in the leg which has been bothering her. She's been on glucosamine, but will be on that and joint supplements for the rest of her life. Kronos is not quite so good with meeting other animals face to face yet, or with meeting people. While he's come a long way from where he was in his meet and greets with strangers and  he's getting better at accepting petting when directed
, he still has a long ways to go in that social skill set, and we will be doing lots of training
to teach him how to behave in face to face interactions with other dogs. There were a couple of dogs there who ran to the end of their leashes and went after Terra. While Terra did raise her lips in response to the one in close quarter who went after her, I'm happy that she just walked away  with me and ignored the littler dogs.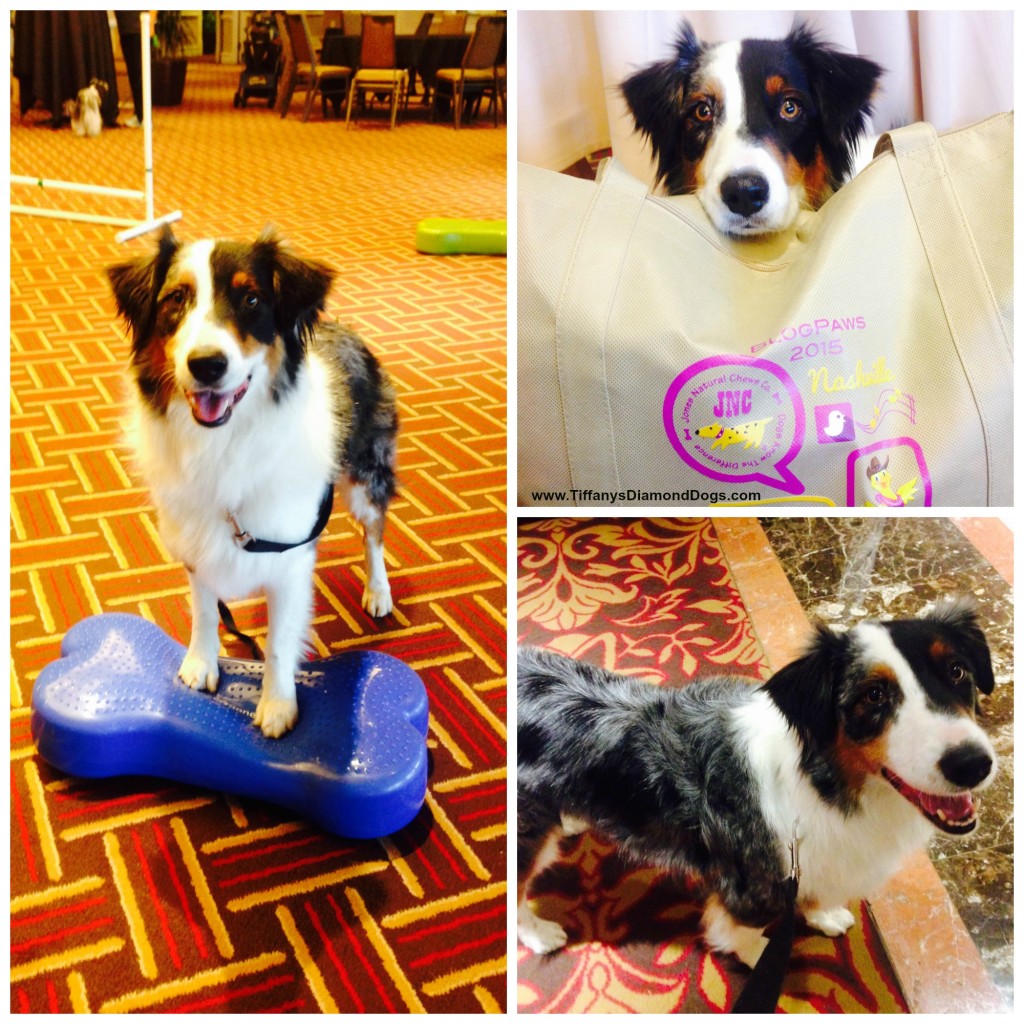 We met lots of animals-old friends and new, from stand-in plush puppies
like Henrietta the Poodle, Flat
Sugar the Golden, ans Plush Oz the Terrier, to live ones such as Poppy the Cocker, sweet little Gabby the pup, and teeny Porky Pig the Chihuahua!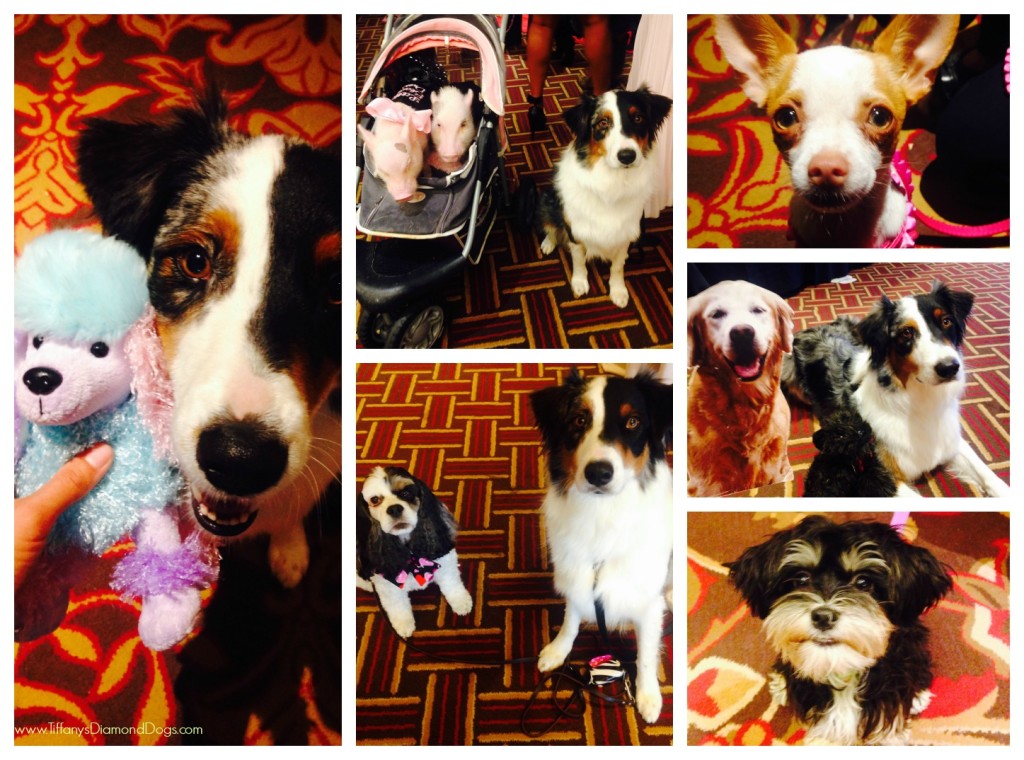 The exhibit hall was filled with so many things to see and do! Terra was in absolute heaven with all of the treats and attention. There were crumbs to clean up, snacks to be given, tricks to perform, and strangers to french kiss. We barely made it to half of the booths, but had fun at the ones we made it to. In between visiting the booths, we attended various sessions
to learn about social media, building an online presence, and more about blogging and having an online business
. Terra slept through the sessions-pictured far right is Remy from DogFiles and Terra recuperating during a session
.

One of the booths had a couple of adorable pups from the local
humane society-meeting all of the people was tiring work for the little pup. During one of the sessions, Belle from Dog Only Knows came over to visit and get some love.
It was important to stay hydrated and refuel during the conference-the snack breaks even had snacks for dogs! All of the food was delicious. Each lunch session
was sponsored by a pet company which gave back to animal shelters in need by donating food.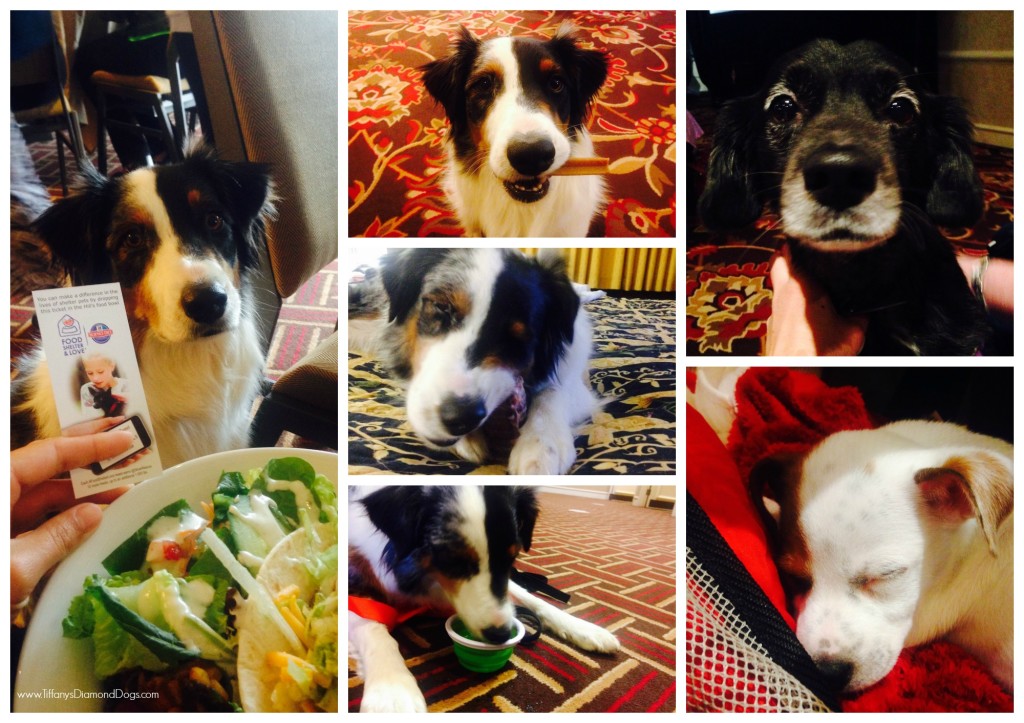 Speaking of donating to animal rescues, Merrick had a stage at their booth where they cast various attendees and pets to sing in their Musical Sensation celebrating their new limited ingredient diet
. Terra did fabulous-she loves being in front of the camera and being the center of attention. I, personally, am much happier behind the camera or on the sidelines! But we participated for a good cause-Merrick donated $250 worth of food to rescues or shelters of the participants choosing. We chose Aussie and Friends Rescue as our recipient for the donation.
Here is the video Merrick produced at the conference:
We also took part in the Pawject Runway fashion show, which is where each person has to make an outfit from the materials provided on a table in under 10 minutes, then they are all judged. The outfit we made had to be seen up close to be truly appreciated-the finesse was in the details. Terra has a silver sparkly collar, black fur lined dress with a sparkly silver trim, a red feather behind her ear, and a big blue bow on her chest to hold it together. It was a lot of fun to participate
. Terra got "Best Cape," and won some Glycoflex joint supplements.
The night ended with walking down the red carpet, getting pictures in front of a backdrop, and then heading into dinner and the Nose-to-Nose award ceremony and closing remarks.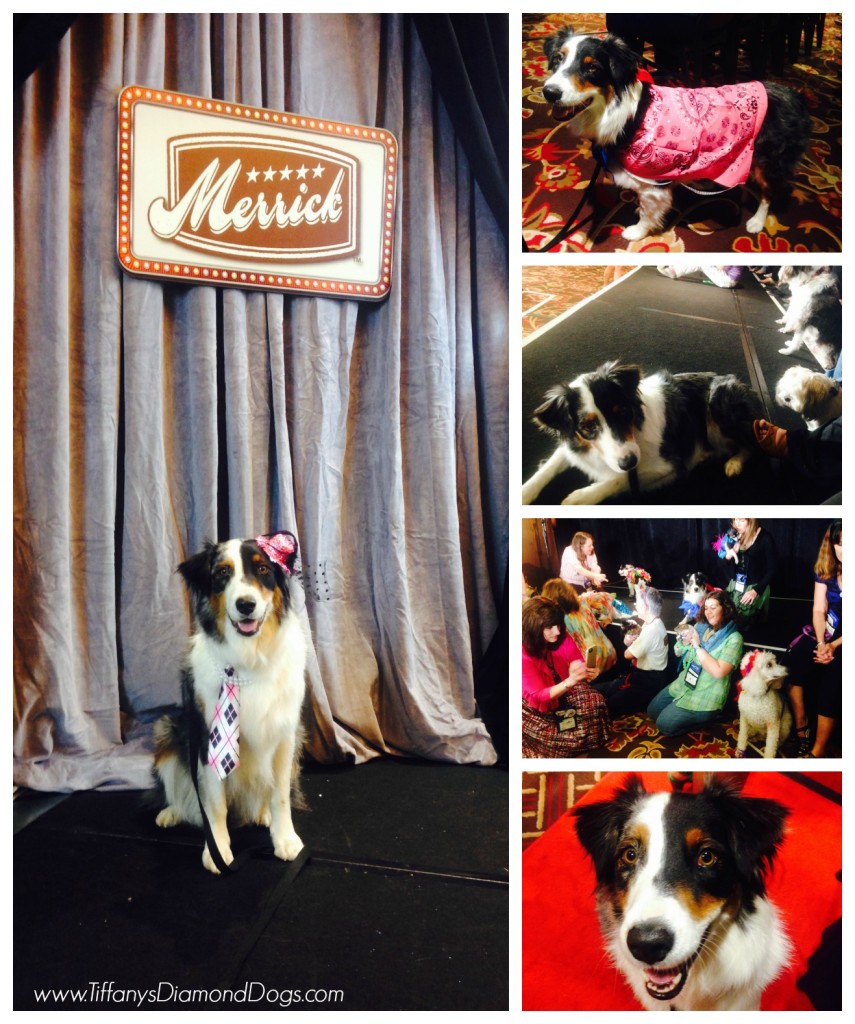 Thank
you to BlogPaws, the presenters, the brands, and most importantly, to all of the behind the scenes workers who did so much and helped the conference go off so smoothly. Blogpaws 2016 will be in Phoenix, AZ! (Much closer to home than TN or NV!) We hope to see you there-make sure you get your ticket
!