Cosmic Kronos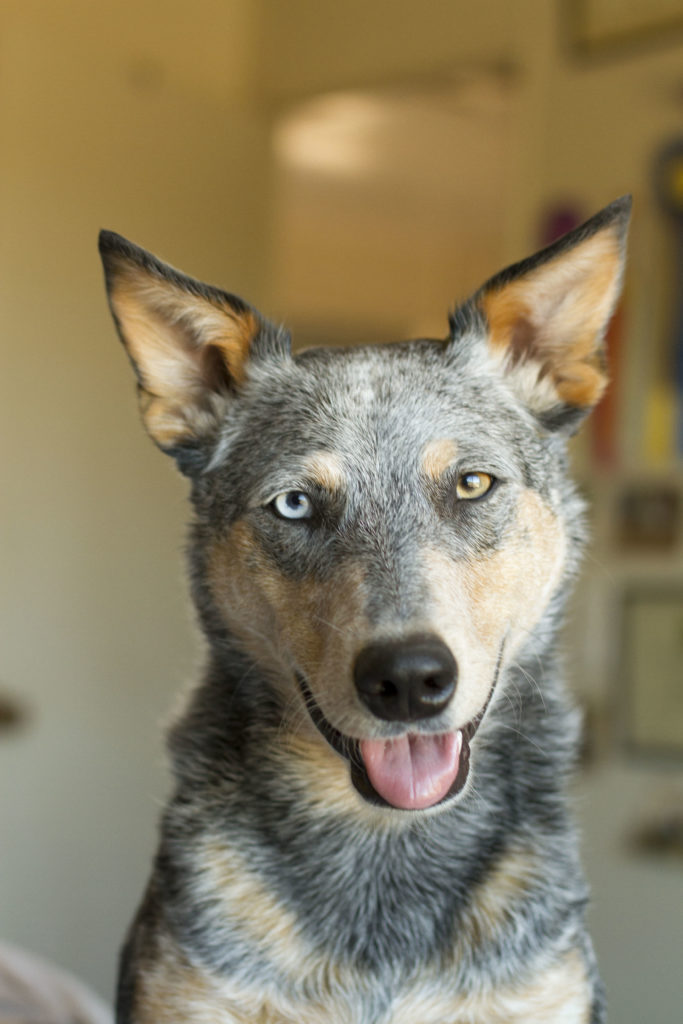 Breed: Australian Cattle Dog (Queensland Blue Heeler)/Cesky Terrier X
Age: 7 years
Color: Salt & Pepper
Name Meaning: Greek God of Time
Zodiac Sign: Libra
Birthday: October 18th, 2012
Color: Blue Speckle
Name Meaning: Greek God of Time*
Nicknames: Munster Man, Dinosaur Puppy, Fire and Ice, Jekyll and Hyde, Wildling, Piranha Puppy, Wolfy Man, Charmeleon, Young Grasshopper, Greyhound Racer, Wile-y Coyote
Favorite Food: USA Made Beef Rawhide Rolls, Bully Sticks, Etta Elk Chew, RedBarn Chews, Natural Balance Rolls, Primal Liver Munchies
Favorite Activities: Soccer, Jumping, Snorkeling, Swimming, Agility, Frisbee, digging, playing in snow, chasing leaves, chewing sticks, running laps, hunting squirrels, lizards, and birds, vaulting into the pool
Titles:
NTD (Do More With Your Dog Novice Trick Dog)
ITD (Do More With Your Dog Intermediate Trick Dog
ATD (Do More With Your Dog Advanced Trick Dog)
ETD (Do More With Your Dog Expert Trick Dog)
CGC (Canine Good Citizen)
TKN (AKC Novice Trick Dog)
TKI (AKC Intermediate Trick Dog)
TKA (AKC Advanced Trick Dog)
TKP (AKC Performer Trick Dog)
TDCH (Trick Dog Champion)
Achievements:
America Top Dog Model Finalist

Hallmark Channel's Inaugural American Rescue Dog Show Best in Talking Semi-Finalist

Photo in credits of The Dog Wedding Movie


365 Page a Day Calendar Dog of the Day May 22nd

Dogster Cover Dog Summer Issue

FidoFriendly Magazine Tongue Out Calendar Cover

Finalist in The Petties Best Pet Video Award 2014

Tucson Pet Expo Trick Talent Contest Performer 2014

Finalist in the 2013 Tails Inc. Magazine Cover Dog Contest

Finalist in the 2013 DOGTV Make My Dog Famous Contest
-6th place overall

Dog of the Day-September 20th, 2013

2nd place in the Tucson KVOA-4 News Pet Halloween Photo Contest 2013
Background
Kronos along with his mom and littermates were brought in as strays to the Pinal County Animal Care and Control Shelter November 2nd, 2012.
The estimated age at their intake was about 2-3 weeks old.
Mom and her litter were pulled by Arizona Cattle Dog Rescue and fostered in Marana Valley, AZ.
Looking to add a friend for Bella to the family, though I prefer female dogs, I figured a boy would be more acceptable as it's recommended to have alternate gender pairings for dogs. ACDR had recently gotten a litter of pups in. I asked if I could foster a pup so I could see if he would mesh with Bella and the family dogs.
After looking through all of the pup's photos on Facebook, I asked to foster Setimika-a dark plain blue boy with brown eyes. Though I distinctly remember this photo which had caught my eye.
Little did I know that little Pimne would be the one coming home with me to stay.
When I went to photograph the pups, I was asked if I could temporarily foster another one of the pups and take him to his foster home in Flagstaff when I returned to school. I agreed, and was given "Ciqlal" to foster.
He peed in the car on the way home and was a little doped up because of his medicine after his double dew claw removal surgery. This pup looked so scared and I had no intention of adopting him, but he set out to change my mind.
Many people find his name very unique and want to know the meaning behind his name. My brother actually picked the name. The Native American names were too hard to say, so we decided to pick different temporary names (because the adoptive families generally change the name anyways). I gave my brother free reign to pick this pup's name and set about finding Setimika's perfect name (at this point I was still set on seeing if he was the pup for me). He picked the name "Kronos" for the pup, noting that he looked like a God of Time and very wizened for his young age.
The name stuck, though it was spelled Kronos instead of Chronos. It wasn't until much later that we found the perfect name for Setimika-Rebel, though he is now known as Roscoe or Rocky for short. Kronos was officially adopted in January 2013 from Arizona Cattle Dog Rescue.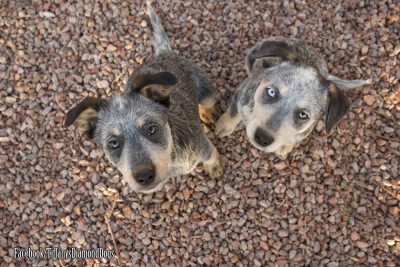 The white pups in the litter were tested for deafness, because it's common for the recessive deaf gene to show up in white Heeler pups. Both passed their BAERs with full hearing. The pup with the two blue eyes was suspected of being deaf, and his deafness was confirmed.
I suspected Kronos of being partially deaf and voiced my concerns to the rescue, because he seemed unable to locate sound. When I played hide-and-seek with him as a pup, he would fly by me to where he thought the echo came from and then eventually find me based on his nose or eyes. However, it was obvious he could hear at least a bit, because he generally responded to verbal cues-when he could hear them. I figured it was better to know for sure and finally, in June 2013, I scheduled his BAER test. The results were partial deafness. It was indicated that he is unilaterally deaf or half deaf-Kronos cannot hear out of his right ear.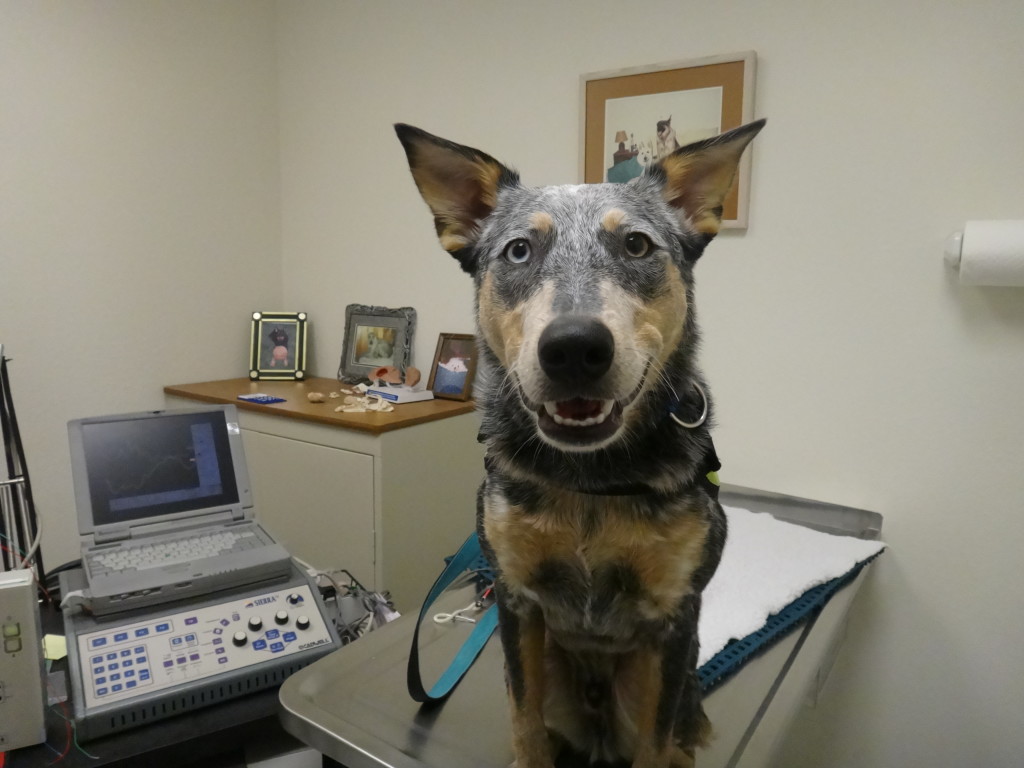 Being able to only half hear does not seem to slow Kronos down too much though-he still loves learning new things and is very quick on picking up tricks!
While Kronos is predominately ACD, I was curious to see what else he had in him. He seems to act like a jackal or coyote and at times acts more like a wild canine than a domestic dog. I sent in a DNA test through Wisdom Panel and he came back as an ACD/Cesky Terrier Mix. We also did a DNA test from Embark, and that came back as 100% ACD! They didn't have Cesky Terriers in their breed catalog, so we can't really compare the two or know how accurate either one is, though he truthfully seems to fall more in line with Wisdom's results in his behaviors.

Interesting for sure! But whatever he is, he's adorable.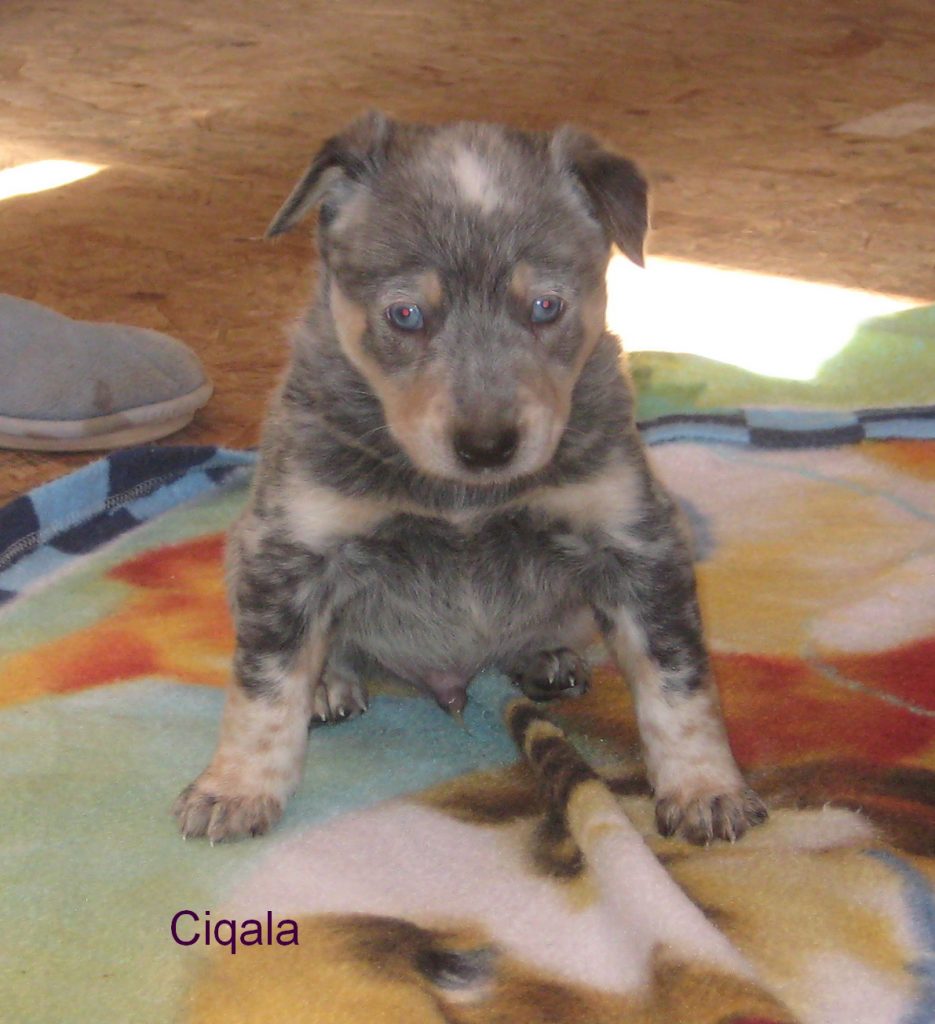 I did not realize until months later that the puppy I had been given was not who he was said to be. Ciqlal and Pimne are very similar looking and were easily mixed up at their young age. The designated Ciqlal has two blue eyes in his baby pic, and Pimne has two different colored eyes. The tell-tale sign that defines Kronos from his brother in his puppy pictures are what I call his "Double Wings" on his chest.
Ironically, the names chosen for the litter are Native American in origin and their translated meanings seem perfect. Pimne means "Weasel" in Navajo while Ciqlal means "Little One" in Dakota and these were the two that got mixed up. This Little One definitely weaseled his way into my heart.
Kronos's Introduction Video and First Year in Video
This is an abbreviated video of his first year. Enjoy!
*For you Greek buffs, the spelling of his name is like the Titan Kronos but he was named for the God of Time