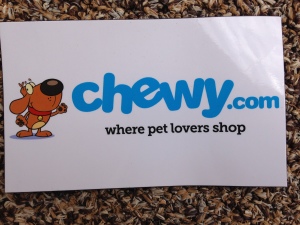 We received a surprise package from Chewy.com! It got waylaid in the mail, because it got sent to our old address. We were so excited about the package! There was even some human things like pens, notepads, bracelets, a drink cup, and some sunglasses (though those will be ours for photo shoots ;)). The package was so nice and unexpected we wanted to give a big "Thank you!" to our friends at Chewy on our Blog! We generally order our dry food from them, and their service is always super fast and incredible!
We will also be putting together a giveaway to celebrate one year of Blogging! We started our Blog last September as Cattle Aussies, and then transitioned to our Blog here as Tiffany's Diamond Dogs after attending BlogPaws in May. With Fall coming up there is lots of fun stuff planned and some great events we'll be attending and sharing with you so stay tuned! Not to mention Kronos and Bella's birthdays are coming up!
On to what came in our Chewy package:
Natural Balance Sweet Potato and Venison Treats
Newman's Own Organics New Zealand Ranch Style Dog Treats
Nature's Variety Instinct RawBoost Minis Duck Formula
Merrick Grain Free and Gluten Free Grammy's Pot Pie Kitchen Bites
BlueStix Salmon & Potato Soft-Moist Dog Treats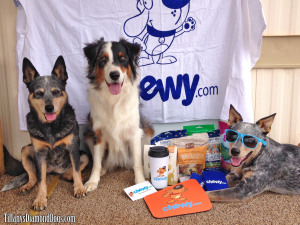 The treats couldn't have come at a better time. One of our treat jars had bugs in it, so we had to throw that out and were talking about a treat shopping outing. Then the treats came in the mail! Well, mom said we have so much stuff anyways that we will be going through our things (toys, treats, etc.) and getting together some stuff to donate to our animal shelter. She says something about us being spoiled, that we don't want things going bad or getting infested like last time, and even us three pups can only eat so much without being overfull or putting on some extra pounds! (Oh! And on a separate note, our foster sibling, Lacey, got adopted this past weekend! We're so happy for her and her new family, though we are enjoying the extra quiet around the house. And soon our house guest will be going home and it'll be back to just us which will be kinda nice)
Mom got a mouse pad in the box too! She was super excited about that, because she has had the same mouse pad for years and you can't even tell what was on it (p.s. it was a black and white cat). BOL So we finally threw that mouse pad away. We say next time she needs a new one that she'll have to get one with our adorable faces on it!
We hope you have a great week!
Live Life to the Fullest,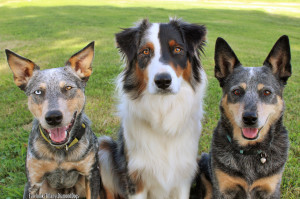 Bella, Terra, & Kronos
Disclaimer: We did not receive compensation for this post-we were provided with these treats from Chewy.com, but we only share information that we think is relevant to our readers. Chewy.com is not responsible for the content of this article. Post may contain affiliate links to help with the upkeep of this blog.