The Dog Sport world is still new to us, but we are quickly becoming hooked on the wide array of sports and chomping at the bit to try them all someday! This last Sunday was our first Dock Diving class. Taking a dog sport training class is a belated birthday present to myself. It is the perfect opportunity for individual bonding and socialization time.
The pup taking the Dock Diving class is Kronos. While Bella and Terra enjoy swimming, neither one  had quite the inclination to throw herself into any body of water with abandon. At the old house, Bella would go all the way around the pool to get in using the steps instead of jumping off of the side. And Terra prefers being sassy on the shoreline when dogs get out of the water (we will be working on this behavior as we go swimming together more and more).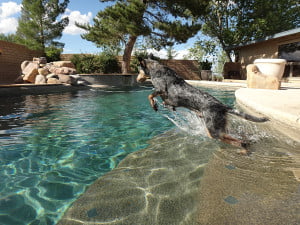 But when Kronos discovered water, he quickly discovered the joy of throwing himself in. He loved jumping into the pool, and from there he did the same thing when we went to the lake. He's still learning how to swim though. He doesn't quite understand that he can't hitch a ride on other dogs when he's swimming or when he gets tired. Now that it's warmer, we will be going to the lake to swim together.
Though we are total novices about Dock Diving, we joined the Advanced Dock Diving class. Since Kronos was already comfortable jumping off of the dock, we were told this would be ok because the classes prior to the Advanced one were mainly focused on getting the dogs confident about jumping off the dock. The ramp at the class was narrower and steeper than the one at the event, so Kronos had a little trouble exiting using the ramp to begin with. However, he quickly caught on, and by the end of the first class he was exiting like a pro! By his second turn, he was getting sleepy and he was already starting to fall asleep in his crate. He is not quite conditioned for this level of activity like the other dogs are yet. And as soon as we got in the car, he crashed.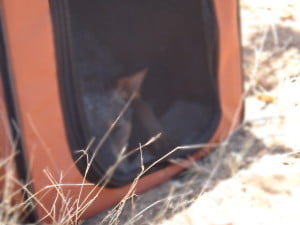 During his first few jumps, Kronos was definitely putting the "Diving" part of the name into play! He dove off the dock just for the fun of it and didn't really care about following the toy (though he was kind enough to bring the toy back out with him once he'd jumped in). But by the end of class he was beginning to look for the toy, track it, and jump with better form according to the instructor.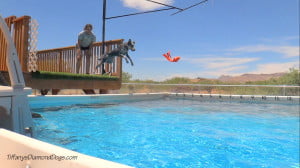 Our technique and form wasn't great (I was told I kept throwing too soon), but that's ok. I'm just very proud of him for sitting and waiting for his release cue, jumping off the dock, and retrieving the toy. We both had a lot of fun and know that we'll learn more as we practice more.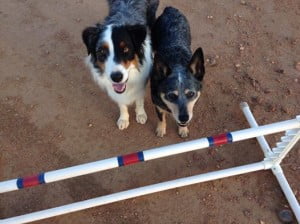 The girls are not being left out though! Terra just got finished with her individual training class, and now both Bella and Terra have some special training and play time for Agility. Bella has already debuted in Agility and currently has two Novice Titles in NADAC. This year we are hoping for Terra to have her Agility debut-but only if we both are ready. We will not be taking the trial field until our relationship and communication has a solid foundation. We've seen some teams at trials where the dog is running around basically by itself or where the handler is trying to give cues, but the dog is blatantly disconnecting or jumping up and nipping the handler; Terra would have definitely been one of those dogs if we had already debuted.
The Dog Sport world is incredible! I only wish I had discovered and pursued it sooner! There are so many options from Rally and Obedience (probably what we won't be participating in, because the dogs find it boring to be given a command that they must obey) to Carting and Scentwork (both of which we do want to try in addition to Herding, Agility, Frisbee, maybe Freestyle, and Dock Diving).
We were introduced to a few of the Dog Sports at the Paws for a Wish event in Phoenix a few months ago. Terra and Kronos tried Lure Coursing; Bella and Kronos did their Herding Instinct Tests; and Kronos got his first taste of Dock Diving. You can see all of Kronos's first experiences with the three different sports in the following video:
Bella has gotten to try Lure Coursing at one of the Arizona Jack Russell Terrier Rescue's Fun Run Days (it took her awhile to feel confident enough to run on her own), and Terra had her Herding Instinct Test and a more in depth session at a pre-arranged place after the Paws for a Wish.
We are so excited to learn more about the Dog Sport World and try our paws at more of the sports for fun.
What sports are you involved in with your dog? We would love to hear!
We would also like to take a moment to announce and congratulate the winner of the Honest Kitchen Giveaway: Mallory!
Make sure to check back for more fun giveaways and chances to win things for you and your furry friends!
Live Life to the Fullest,