Today we want to take a few moments to share our Top 5 favorite brands that we met at BlogPaws.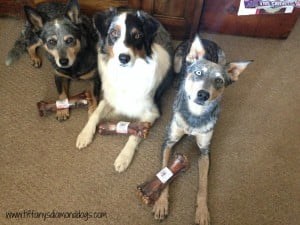 Next week we'll be back to an actual Wordless Wednesday.
We have been exposed to a multitude of different pet products and options, and the variety of choices that are offered are as overwhelming for a pup as well as its human! At BlogPaws back in May we got a chance to meet some of the pet product companies face to face. Terra and Bella thought they were in absolute heaven with the never ending stream of treats they were offered and the chews that were placed at perfect doggie height in a few booths. Bella, Terra, and Kronos have been trying some of their swag that they received (and we also had so much that we have given away some treats to our friends and donated some too, and the rest of the toys and food are put aside for future giveaways).
Top 5 Favorites
(which not only impressed the human, but that also received two paws up from each pup):
1. Jones Natural Chews
2. Merrick Pet Care
3. I And Love and You
4. The Honest Kitchen
5. Only Natural Pet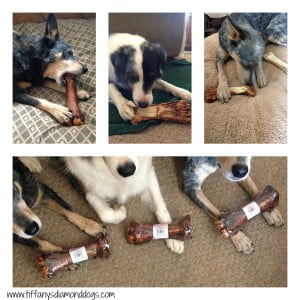 Jones Natural Chews were an instant favorite. Bella, Terra, and Kronos wanted the bones as soon as the bag was dumped out-even though the bones were wrapped. Inca and Lacey also enjoyed chewing on the bones and everyone alternates turns chewing even though the meaty outside is now gone.
Merrick makes amazing food! The quality of their ingredients is wonderful and they are U.S.A. Made. Bella, Terra, and Kronos have been longtime fans of their Lamb Lung treats, and have discovered the healthy tastefulness of their Canned Food which looks like a homemade stew. The Wingaling treats are a perfect snack and easy to break into smaller pieces for training. However, the Granny's Pot Pie summer sausages make the best training treats. They are easy to cut up and mix with dry kibble in a treat pouch. We haven't played with the Frisbee yet, and are almost afraid to, because we don't want to ruin it!
I And Love And You is quality food, but honestly, what initially attracted me to them was the packaging of their products. The packaging is absolutely adorable! Upon closer inspection, they have natural and healthy ingredients, and that makes me feel good about giving it to my furry best friends. We won some of their Bully Sticks, Venison Jerky treats, and Dehydrated food from a giveaway and the dog's curious sniffs and happy dances when the food comes out is enough of an indication that they are fans.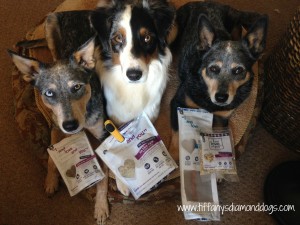 The Honest Kitchen is all about quality and having a healthy pet! Their products are made in a factory alongside their human products and their food is human-grade. You can find out more about what we thought of The Honest Kitchen's Dehydrated food and Beams treats in our Honest Kitchen Review.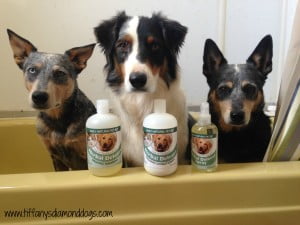 Only Natural Pet is simply amazing. Bella, Terra, and Kronos enjoyed the dehydrated sample bag of dog food that they received. We had also received a gift card for Only Natural Pet for being one of the Finalists for the Nose-to-Nose Awards. We got some Multivitamin powder with the gift card. Then we ordered the Herbal Defense Shampoo, Conditioner, Spray, and Wild Alaskan Salmon Oil from Only Natural Pet. The aromas of the flea and tick prevention washes and spray are pleasant, and the ingredients are all natural.
Hope you enjoyed our Top 5! What are some of your favorite products or brands? Please share in the comments!
Live Life to the fullest,