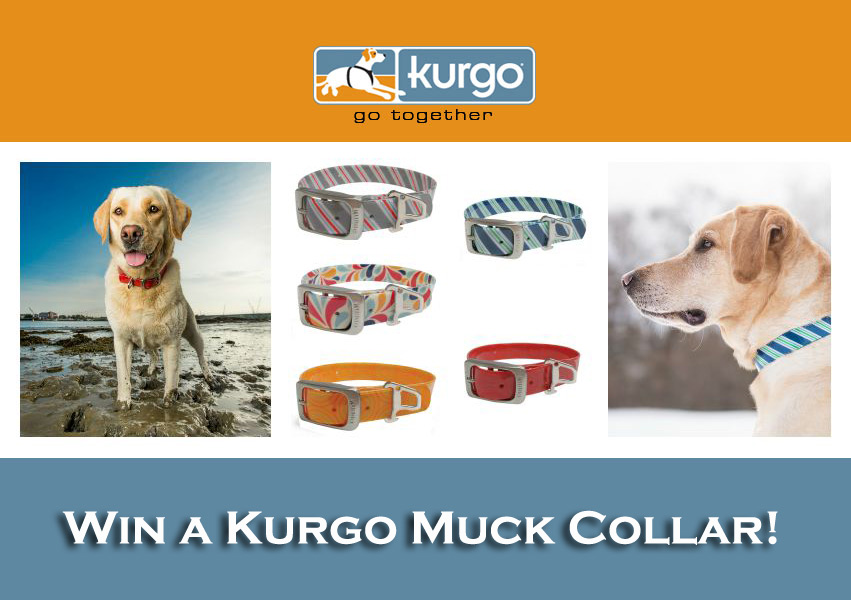 Welcome to a great group giveaway that we're co-hosting with DogTipper! Along with some other super blogs, we're giving away a Kurgo Muck Collar, a collar that's waterproof and forever free of odor. These dog collars (which are PVC-free) are protected by a special coating that prevents dirt, bacteria and moisture from reaching the collar. When you're done with the day's fun–whether that involved a roll in the mud or a romp through the snow–all you have to do is rinse off the collar, and it's ready for another day of adventure.
The Muck Collar is available in five styles with three sizes for collar sizes 10 to 25 inches. The Small collars are 3/4″ wide while the Medium and Large collars are 1″ wide. And it has one other unique feature: a leash ring that doubles as a bottle opener!
We're joining in a group giveaway for a Kurgo Muck Collar of the winner's choice!
How to Enter
You'll enter in the widget below. One winner will be selected at random; Kurgo will ship the prize directly to the winner. This giveaway is open to readers in the USA and Canada. The giveaway will begin on Sept. 20 at 1:00am CT and will end on Sept. 30 at 11:59pm CT
Good luck!
Disclosure: This giveaway prize is sponsored by Kurgo; the company will ship the prize directly to the winner. All opinions and statements are entirely my own.